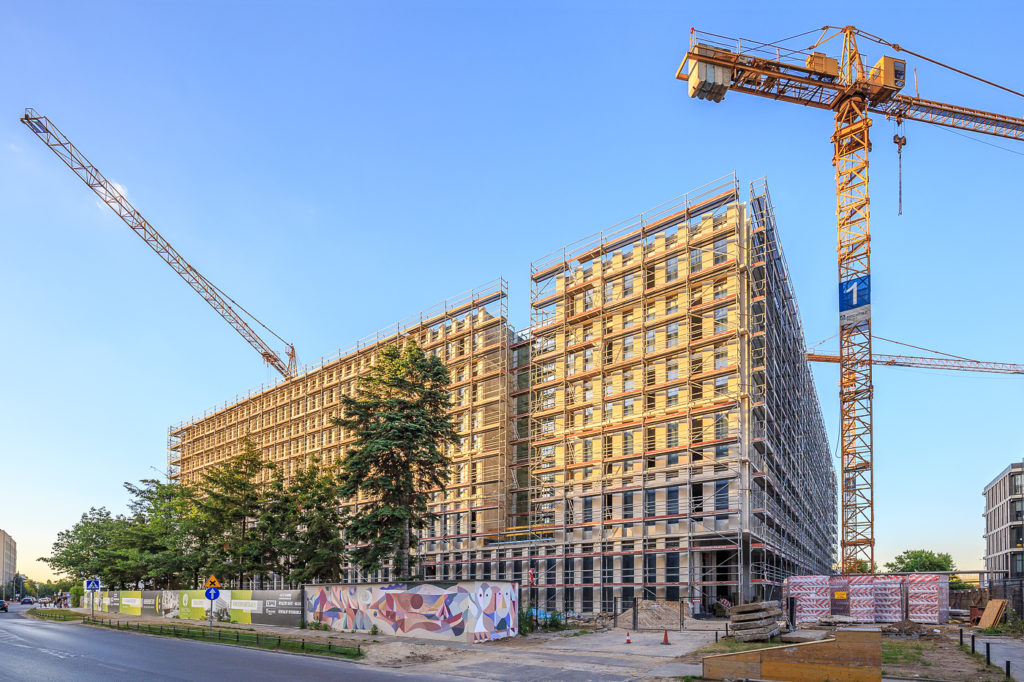 Building shell completed at the Bobrowiecka 8 office building
03.07.2017
Construction of the Bobrowiecka 8 office building reached the highest point and the shell has been completed. The project has successfully progressed as planned. Its completion is scheduled for the third quarter of the current year. This is good news for future tenants, who will soon be able to move into the building.
Bobrowiecka 8 is the latest investment of Spectra Development, located in Warsaw's Dolny Mokotów district. The modern class A office building will offer nearly 22,000 m² of office space and more than 2,400 m² of retail space. The floor area of a typical floor in this six-storey building will be approximately 4,000 m². The timeless architecture will make it possible to freely arrange space in accordance with individual preferences of each tenant. Advanced technological solutions used in the project will ensure the highest comfort of work for employees at the office building. The building will also have green relaxation zones. The first one, having the form of an art garden, will be located in the atrium of the office building. The second one will be arranged on the square between the Bobrowiecka 8 and Bobrowiecka 10 buildings. Future tenants will also have access to an underground, two-storey car park with 501 parking spaces, as well as a number of amenities – a conference centre, a café, a restaurant and a fitness club.
"The Bobrowiecka 8 project is carried out to the highest building standards in terms of environmental protection and sustainable development. This is evidenced by the BREEAM pre-assessment certificate, which has already been obtained for the building and which will be confirmed after its completion scheduled for this September," announced Dariusz Sokołowski, the President of the Management Board of Spectra Development.
Excellent location of the office building will ensure a very good access to all districts of Warsaw. It takes only 12 minutes to get to the city centre, which is located only 4 km away, while the
nearby Siekierkowski Bridge ensures a convenient connection with the right-bank part of the capital.
The project is executed as part of the Bobrowiecka Complex, which will create a complex of buildings designed by a design office JEMS Architekci, comprising the Bobrowiecka 8 office building, the Bobrowiecka 10 apartment building, as well as the already existing Bobrowiecka 6 office building. The concept of the complex goes beyond the walls of the buildings, creating a coherent urban setting, which will stand out in the capital's property market thanks to the presence of artworks. Just like
in the case of the Bobrowiecka 6 building, the Bobrowiecka 8 office building will feature art works made by renowned Polish artists. The building will serve as an exhibition venue for art works of young contemporary artists as part of the innovative project Spectra Art Space pursued in cooperation with the Starak Family Foundation.
For more information see www.bobrowiecka8.pl.
← Centrum prasowe