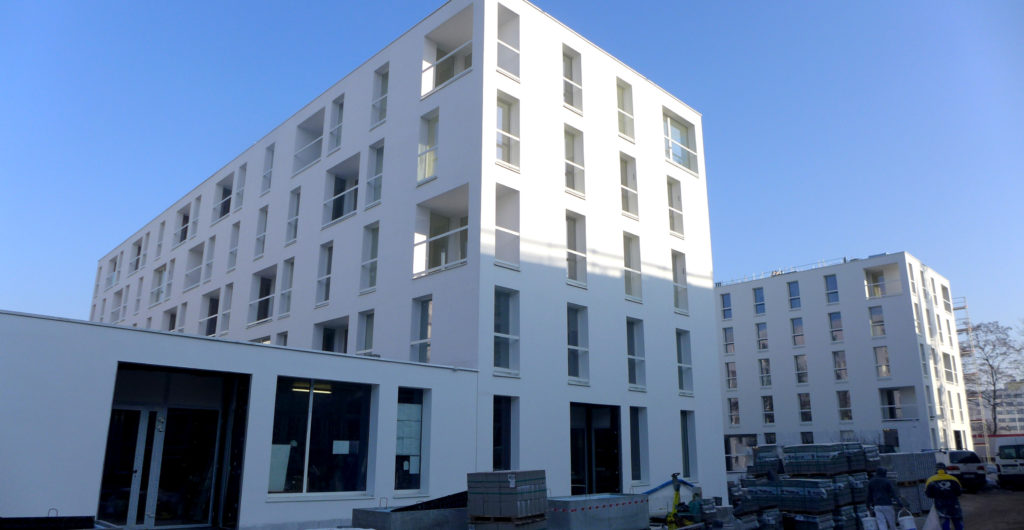 Construction of Bobrowiecka 10 is 90% complete
22.02.2017
Construction of the Bobrowiecka 10 building located in Warsaw's Dolny Mokotów district, is 90% complete. The project of Spectra Development, which offers apartments and high standard flats, will be completed by the end of the first quarter of this year. Façade works and finishing of the interior and common areas of the building are currently nearing completion.
The Bobrowiecka 10 building is being built just 4 km from the centre of Warsaw, in the Sielce area of the Mokotów district, between Sobieskiego Street – the southern section of the Royal Route, and Czerniakowska Street – a part of the Wisłostrada trunk road. The construction of this small high standard project is clearly nearing its completion.
The elevation of the apartment building, which is divided into 4 parts, is already 95% complete. Finishing works inside the building are performed at the same time. In the apartments concrete floors and gypsum plasterwork is being made. In addition, walls and ceilings are being painted and radiators are being installed. In further staircases the performed installation work includes suspended ceilings, electrical systems related to the equipment in the building and installation of doors to apartments. The common areas of the apartment building will be characterised by a timeless, bright colour design and high quality finishing materials (e.g. Terazzo white tiles and plinths, steel balustrades with beech handrails, OTIS Genesis lifts with mirrors and LED lighting). Concurrently, works related to the finishing of underground car parks and development of the site are underway. In the two inner courtyards greenery is planted and street furniture, i.e. benches, bicycle stands and rubbish bins are installed. The installation of external balustrades surrounding the black alder natural monument, which is the key architectural focus point of the project, was also completed.
The Bobrowiecka 10 project accommodates a total of 123 apartments and high standard flats, with a floor area ranging from 28 to 122 m². They include five two-storey apartments with separate entrances directly from the courtyard and individual small backyards. Residents will be able to use an underground car park with 154 parking spaces and storage rooms. Security is ensured by a 24/7 monitoring system, including cameras, security staff and video intercoms. On the ground floor there will be eight retail units that will improve the comfort of everyday life of the residents.
The apartment building is a part of the Bobrowiecka Complex designed by a renowned design office JEMS Architekci Sp. z o.o., consisting of the Bobrowiecka 8 office building, which is now under construction, and the already existing Bobrowiecka 6 office building. The entire complex is carried out in line with our original concept of culture embedded in space which provides for the presence of art, which has been made a reality thanks to the cooperation with the Starak Family Foundation.
For more information see www.bobrowiecka10.pl.
← Centrum prasowe