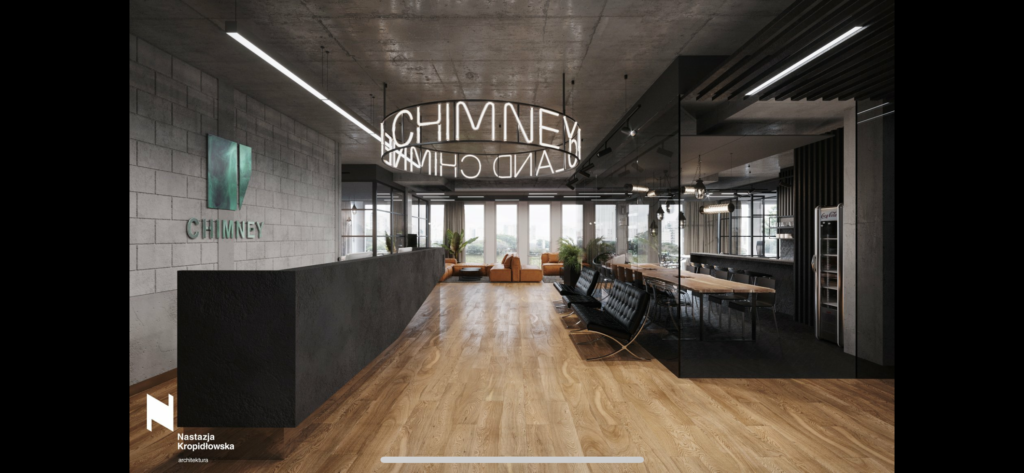 Chimney won the prestigious Office Superstar competition
Chimney Poland, a video post-production company, has just won the third edition of the Office Superstar competition in the creative industry category. The company is based in the Bobrowiecka 8 office building, where it moved in at the beginning of the year.
Chimney Poland is an advanced post-production house, specialising in Digital Intermediate technology and creation of special effects for TV and movie productions. The company has its registered office at Bobrowiecka 8, an office building which is a part of the complex at Bobrowiecka Street. Its office was designed by the Nastazja Kropidłowska Architektura studio. The 870 m² of top class office space accommodates many offices, graphic workshops, studies, utility and sanitary rooms, a conference room, an open space area, a dining room and even a modern screening room. The key assumption for the design was to create a unique, fully functional office space with a homelike atmosphere. The interior owes its unique character to specially designed huge chandeliers with a neon logo of the company, vertical wall decorations made of metal elements, and details made of stylised rusty metal sheet. The non-standard internal decoration not only stimulates the creativity of employees, sparking interesting and unique designs, but is also attractive to visitors.
The timeless architecture and advanced technological solutions at the Bobrowiecka 8 office building guarantee the most comfortable working conditions and make it stand out among office buildings in the capital. The project offers 25,000 m² of A-class office and retail space. In accordance with the original concept of culture embedded in space, an exhibition of works of art by young Polish artists, organised in cooperation with the Starak Family Foundation, is presented in the office building. The Bobrowiecka 8 office building is located in Warsaw's Dolny Mokotów district, just at the entry to the route leading to the Siekierkowski Bridge, which guarantees a very convenient connection with other Warsaw districts.
Office Superstar 2019 is a prestigious competition held by CBRE, aimed at promoting innovative office space arrangements. The competition focuses on presenting current trends and highlighting innovative solutions that work well in real-world applications. The purpose of the competition is to promote organisations that treat their offices not only as a workplace, but also as space which can be friendly and comfortable for all employees. The finalists of the Superstar Office 2019 competition were selected by an independent group of top experts in different fields, such as property, architecture, work environment, change management, design and futurology.
← Centrum prasowe