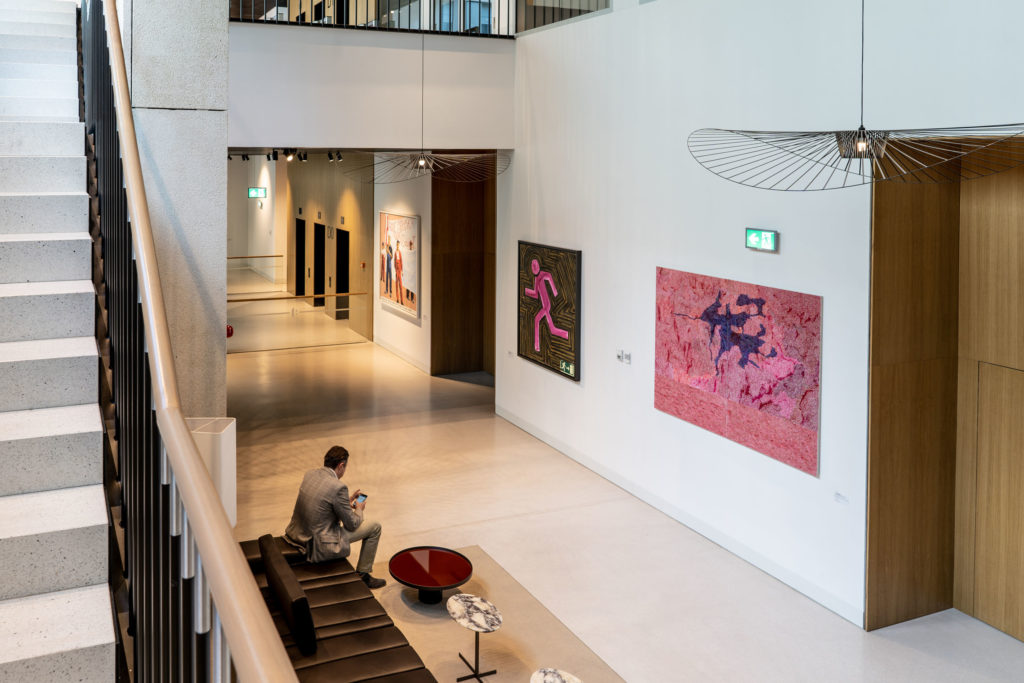 Culture embedded in space – the hallmark of Bobrowiecka 8
Anna and Jerzy Starak's private art collection displayed by the owners in the Bobrowiecka buildings is a hallmark of the complex. It is a professionally made cultural offering modelled on proven global practices, which naturally complements the activities of museums and other cultural institutions, thus fulfilling corporate social responsibility objectives. Not only does it significantly boost the attractiveness of the place, creating a friendly working environment, but it also stimulates creativity in a special way.
"Experience has taught us that our tenants appreciate the presence of works of art in the workplace. Coming to the office every day, their employees feel like they are entering a gallery, not a standard office building. People who are surrounded by works of art, such as the top-class art in our buildings, feel better and function better at work. In view of this, businesses are looking for a prestigious place that will fit with their image. We offer all this and much more to our Bobrowiecka 8 tenants, which is why the commercialization of the office building is nearly 93%," said Dariusz Sokołowski, CEO of Spectra Development.
In 2013, the Starak Family Foundation established Spectra Art Space in the Bobrowiecka 6 building to present and promote classics of Polish post-1950s contemporary art. The source and the cornerstone of the main exhibition programme is the donors' private collection made available to the public. The building houses works by, among others, Magdalena Abakanowicz, Wojciech Fangor, Stefan Gierowski, Władysław Hasior, Tadeusz Kantor, Roman Opałka, Teresa Pągowska, Erna Rosenstein, Andrzej Wróblewski, Ryszard Winiarski and many other renowned Polish artists. Owing to Spectra Art Space's major contemporary art exhibitions and cultural events (tours of the art collection, lectures and workshops), the educational, integration and promotional objectives relevant to the goals of this initiative are being met in practice.
In cooperation with the Starak Family Foundation, in line with our original concept of culture embedded in space, the Bobrowiecka 8 building houses an exhibition of Polish post-1989 art. In the building are works by, among others: Wilhelm Sasnal, Marcin Maciejowski, Piotr Ulański, Zbigniew Rogalski, and a mural by Swansky. Sculptures by Maurycy Gomulicki have been placed in the green atriums on the ground floor.
"In pursuing this programme, we are creating a new, unique and remarkably distinctive quality. This is how emblematic places are created, which not only build the brand of a company, corporation or collector, but also a city, state, and the culture of a given nation. Just like the offices of Deutsche Bank in Berlin and Bloomberg in London, as well as the production plants of Würth across Europe. We have such a place here in Warsaw, Poland – it is Spectra. Works of art are not a decoration, but quality itself, giving every space meaning. Today, nobody can imagine these buildings without them," says Ania Muszyńska, curator of Spectra Art Space.
According to a survey by the American Business Committee for the Arts (BCA) and the International Association of Professional Art Advisors (IAPAA), 78% of respondents state that art at work helps reduce stress, 64% of respondents believe that it improves their creativity, and 77% state that it encourages them to express their opinions. Research carried out by the School of Psychology at the University of Exeter in the UK has shown that the productivity of employees working in spaces where works of art are exhibited increases by as much as 17%.
Besides art, the Bobrowiecka complex stands out with its wide array of services improving the quality of everyday life for employees of the surrounding office buildings and local residents. The Bobrowiecka 8 project, together with adjacent buildings – the Bobrowiecka 6 office building and the Bobrowiecka 10 apartment building – is part of an urban complex designed by the JEMS Architekci architecture design studio. Bobrowiecka 8 stands out with its timeless architecture and advanced technological solutions, which guarantee the most comfortable working conditions. The project offers 25,000 sq. m. of A-class office and retail space. The office building was built in accordance with the principles of sustainable development, BREEAM certification and Building Information Modelling (BIM).
← Centrum prasowe