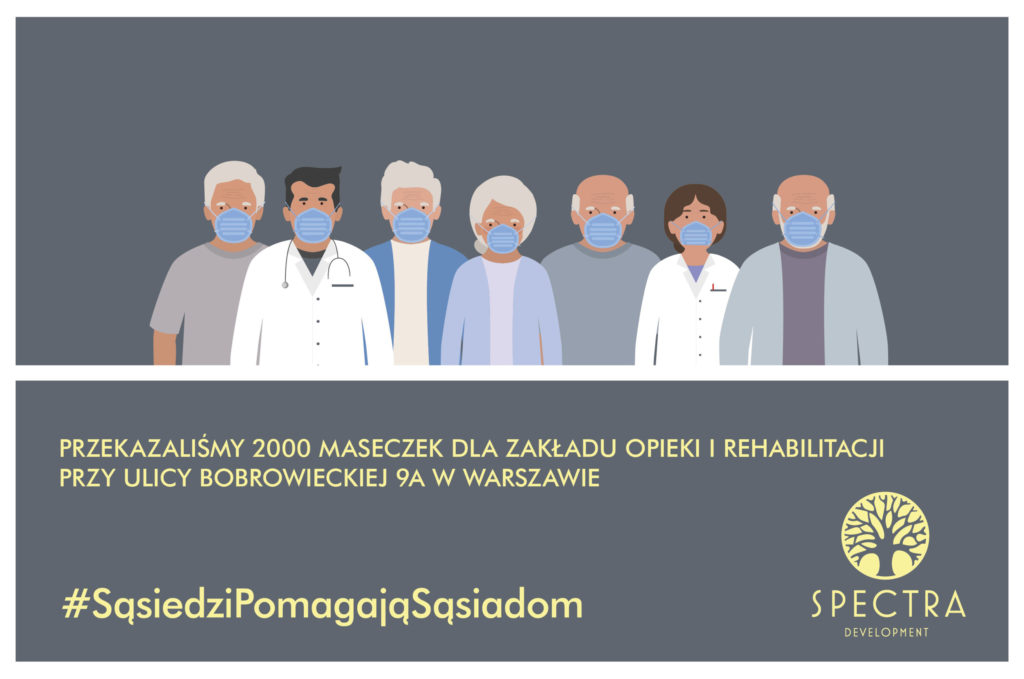 Neighbourly Assistance on Bobrowiecka in the fight against COVID-19
2000 surgical masks were delivered to the Nursing and Rehabilitation Facility at 9a Bobrowiecka Street in Warsaw, run by the Academic Medical Centre. The masks will constitute an element of the personal protection of the staff and patients of the facility. The personal protective equipment was provided by Spectra Development – a developer who built a complex of office and residential buildings on the same street.
"We are aware of the gravity of the situation related to the COVID-19 epidemic. The majority of our employees are working safely in their homes. However, we were moved by the difficult situation in the nursing home, an institution located opposite our company headquarters. That is why we have decided to provide the facility with 2000 surgical masks, which will help to protect the staff and patients and maintain a heightened sanitary regime in the facility. We gave the nursing and care facility a part of our stock. We believe that in situations like this we should support each other", said Dariusz Sokołowski, President of the Management Board of Spectra Development.
"On behalf of the patients and medical staff, we would like to thank you for the support we have received in the form of protective equipment. We are grateful for your help. The equipment was distributed yesterday. Soon we will publish the list of donors on our website", said Patryk Gruszczyński, representative of the Academic Medical Centre.
← Centrum prasowe